<!Recipie----->

Libyan Lamb Boureek

Lamb and parsley filled phyllo pastry turnovers garnished with sesame seeds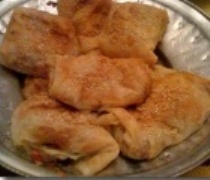 <!Ingredients----->

Ingredients:

1 Tsp Butter
1kg Ground Lamb
1 Small Onion, chopped
4 Sprigs fresh Parsley, chopped
Salt and Black Pepper to taste
1/8 Tsp Cinnamon
8 Phyllo Pastry Sheets (12 X 17 each)
3 Tbs Melted Butter
1 Egg, beaten
Sesame Seeds for garnish

<!Method----->

Method:

Preheat oven to 175c.
Melt butter in a frying pan over medium heat then add ground lamb and fry for around 2-3 min.
Add the onion, parsley, salt, black pepper and cinnamon.
Cook over medium-low heat until lamb is cooked through.
Fold both sides of a phyllo sheet to the center length-wise then sprinkle lightly with melted butter.
Place two tablespoons of meat filling at one end of phyllo then press until around four inches wide and one inch deep.
Roll dough over three times then Sprinkle with more butter and brush with beaten egg to seal.
Repeat with left over phyllo and meat mixture.
Place turnovers on a lightly-greased baking dish.
Bake for around 15-20 min then sprinkle with sesame seeds for garnish.