<!Recipie----->

Lebanese Meat and Tomato Pies

Open spicy pies with minced lamb, tomato and pine nuts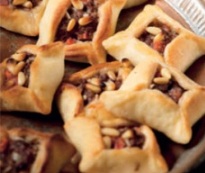 <!Ingredients----->

Ingredients:

2 tablesp olive oil, plus extra for greasing
1/3 cup (50g) pine nuts
1 onion, finely chopped
1/2 teasp ground allspice
1/2 teasp freshly ground black pepper
1 teasp ground sumac
1 teasp salt, or to taste
1 teasp pomegranate molasses
250g coarsely minced lean lamb
1 large tomato, finely chopped
1 quantity Sambousik pastry

<!Method----->

Method:

Preheat the oven to 180c and lightly grease a baking tray.
Heat the oil in a frying pan over medium heat and cook the pine nuts for 2-3 minutes or until golden brown, stirring constantly to prevent burning.
Remove the pine nuts with a slotted spoon and drain on paper towel, reserving the oil.
Place the onion in a bowl and rub in the spices, salt and pomegranate molasses. Add the meat and tomato, then the pine nuts and the reserved oil.
Roll out the pastry until 3-5 mm thick and cut it into twenty 9 cm rounds. Turn the rounds over (this helps the pastry corners stick together) and place 1 tablespoon of filling in the centre of each. Pinch the rounds together at the four 'corners', bringing up the sides to make walls around the filling but leaving the top open (see opposite).
If the corners of the pastry will not stick, dip your fingers in water, then dab onto the pastry to dampen the edges.
Arrange the pies on the baking tray and bake for 20-25 minutes or until golden brown. Serve hot or at room temperature.