<!Recipie----->

Pita Za'atar Bread

Pizza with sumac, sesame, thyme, marjoram and oregano topping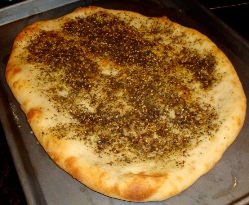 K(nown in Arabic as Manakeesh, Manaeesh or Manaish)
<!Recipie Ing & Meth--------->

Ingredients:

Pita:
3 Cups plain flour
1 Cup warm water
1 tbsp sugar
1 tsp salt
1 tsp active dry yeast

Za'artar Mix:
1 cup olive oil
1/4 cup sumac
2 tablesp thyme
1 tablesp roasted sesame seeds
2 tablesp marjoram
2 tablesp oregano
1 teasp salt



Method:

In a small bowl mix yeast and sugar with 1/4 cup warm water then let sit for 15 minutes.
In a bowl mix the flour, salt and yeast mixture then knead the into dough, while your gradually adding the remaining warm water, knead for about 8 minutes.
Roll dough into a ball and cover bowl with a towel then let stand for 1 hour.
Knead for 2 minutes then divide dough into 8 balls.
Roll each ball with a rolling pin until about 2cm thick, and 15cm in diameter rounded.
Line baking tray with baking paper, lightly grease with olive oil then place pitas on tray then gently stab each pita 5-10 times with a fork.
Mix the olive oil and the Za'atar mix in a bowl then spread 2 table spoonfuls on each pita.
Preheated oven to 200c then bake for 15 minutes, best when served hot.