<!Recipie----->

Turkish Pumpkin and Walnut Pastry

Filo pastry stuffed with sweet cinnamon pumpkin, walnuts and honey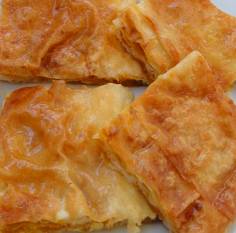 <!Ingredients----->

Ingredients:

3 Filo Pastry Sheets
1/2 Cups Caster Sugar
350 Grams Pumpkin, peeled, chopped
1/2 Cup Walnuts, finely crushed
2 Tblsp Cups Full Cream Milk
1 Tsp Ground Cinnamon
1 Tblsp Honey
1-2 Tblsp Unsalted Butter, melted

<!Method----->

Method:

Boil pumpkin for 10 minutes, drain well then set-aside.
Pre-heat oven to 200c.
In a large bowl mash the pumpkin then add sugar, cinnamon, crushed walnuts, milk and honey, mix well to form a smooth consistency.
On a well greased baking tray place 1 sheet of filo pastry, brush with butter than place another sheet of filo pastry over it to make a base.
Evenly spread the pumpkin mixture over the pastry base then place the other filo pastry sheets on top.
Cut away any overlap pastry from around the edges.
Bake for around 30-40 minutes until lightly golden.
Slice it into squares then serve either hot or cold.