<!Recipie----->

Yemeni Kidem Bread

Whole wheat bread balls with a cardamom flavour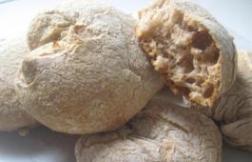 <!Ingredients----->

Ingredients:

2 Cups Whole Wheat Flour
2 Cups Bread Flour
1 3/4 Cups Water
1 Tsp Ground Cardamom
1 Tsp Yeast
1 Tsp Salt

<!Method----->

Method:

Preheat oven 240c.
Mix and knead all the ingredients.
Knead for 5 minutes in a kitchen aid mixer or 10 minutes by hand until dough is soft and pliable.
Let dough rise for 3-6 hours or overnight for more flavour.
Prepare a flat surface with flour, Coat hands and dough completely in flour and break dough off in small bits, so there are about 12 pieces of bread. Coat each roll well in flour and place on a sheet. Let sit for 10 minutes.
Cook for 20 minutes at 240c or until the breads are cooked through and browned on top.