<!Recipie----->

Chichen Kababs

Chicken marinated in garlic, lemon, cumin and paprika with bell peppers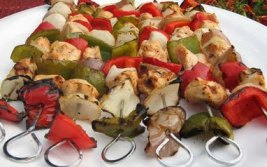 <!Recipie Ing & Meth--------->

Ingredients:

Ingredients:
400g skinless and boneless chicken breast, cut into small cubes
1/2 green bell pepper, cut into chuncks
1/2 red bell pepper, cut into chuncks
1 large on onion, cut into chuncks

Marinate:
1/4 small onion
2 cloves garlic, crushed
1 1/2 Tblsp olive oil
1 1/2 Tblsp lemon juice
1 Tsp paprika
1/2 Tsp ground cumin
1/2 Tsp salt
1 Tblsp parsley leaves, chopped

For Grilling:
2 tablesp olive oil (for brushing)



Method:

Mix all the marinate ingredients in a large bowl, add the chicken, coat well, cover the bowl with cling wrap and place in the fridge for at least 1 hour.
Thread four pieces of chicken with pieces of pepper and onion in between each piece onto the skewers.
Heat up the grill and grill the chicken kebabs until cooked.
While grilling, brush the kebabs with olive oil.
Serve hot.