<!Recipie----->

Chicken and Potato in Tomato Sauce

Baked chicken with potatoes and capsicum in a tomato garlic sauce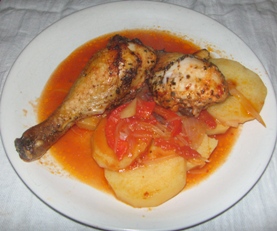 <!Ingredients----->

Ingredients:

1 Whole Chicken cut into 8 or you can use 4 Maryland Pieces
4 Large Potatoes, cut into thick slices
1 Large Onion, thinly sliced
1 Green Capsicum, sliced
1 Can diced Tomatoes
3 Garlic, Cloves, crushed
2 Tblsp Olive Oil
Coarse Salt and Ground Pepper

<!Method----->

Method:

Preheat oven to 220 degrees.
In a pan heat oil and sauté onion, garlic and capsicum for 2-3 minutes add tomatoes, salt and pepper then simmer for 5 minutes.
Add potatoes and simmer for another five minutes then take of the fire.
In a roasting pan pour all potatoes mix (you can add half a cup of water just to cover the potatoes).
Arrange chicken skin side up on top of the mix and Roast until chicken is browned and cooked through, about 40 minutes.
Serve with the chicken on top of the potatoes.