<!Recipie----->

Egyptian Pan Fried Giblets

Pan fried chicken giblets with garlic, coriander, cumin and lemon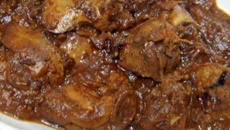 <!Ingredients----->

Ingredients:

2 Cups Chicken Giblets
2 Tblsp Olive Oil
1 Large Onion, diced
3 Cloves Garlic, crushed
1 Tsp Ground Coriander
1 Tsp Ground Cumin
Salt and Pepper to taste
1 Cup Water
Juice of 1 Lemon

<!Method----->

Method:

In large frying heat the oil add the chicken giblets and pan fry for 3-5 minutes to seal.
Add the onion, garlic, and spices, continue to fry until the onion are soft and golden.
Add the water, bring to a boil then reduce heat and simmer while gently stirring for 5 minutes.
Remove from heat, mix through lemon juice then serve with rice or pita bread.