<!Recipie----->

Egyptian Yasa Chicken

Chicken cooked with red onions, garlic, cinnamon, thyme and chilli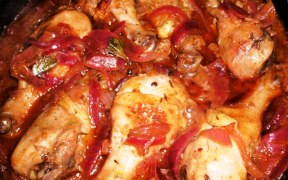 <!Ingredients----->

Ingredients:

Juice of 1 Lemon
4 Tblsp Vinegar
3 Red Onions, roughly chopped
2 Garlic Cloves, minced
4 Tblsp Vegetable Oil
1 Tsp Ground Cinnamon
Salt and Pepper to taste
1.5kg Chicken Pieces
1 Sprig Thyme
1 Green Chilli, seeded, finely chopped
2 Bay Leaves
2 Cups Chicken Stock


<!Method----->

Method:

In a large bowl add the lemon juice, vinegar, onions, garlic, 2 Tblsp oil, cinnamon, salt and pepper, mix well to combine then add the chicken and coat well.
Cover the bowl with cling wrap then place in fridge for 3 hours to marinate.
Heat 2 Tblsp oil in a large saucepan and fry the chicken pieces for 4-5 min until browned then add the marinated onions to the chicken and fry for another 3 min.
Add the thyme, chilli, bay leaves and half the stock, cover and simmer on a medium heat for about 30-40 min until the chicken is cooked.
Adding more stock as the sauce evaporates.
Remove from heat and serve hot.