<!Recipie----->

Iraqi Chicken and Zucchini Stew

Chicken in a tomatoes and zucchini stew with turmeric and ginger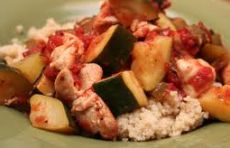 <!Ingredients----->

Ingredients:

1 Whole Chicken, Cut into 8 Skinless Pieces
500ml Water
2 Large Tomatoes, diced
4 Zucchinis, chopped
1 Small Onion, chopped
2 Tblsp Olive Oil
2 Garlic Cloves, crushed
1 Tsp Ground Cardamom
1 Tsp Ground Turmeric
1/2 Tsp Cinnamon
1/2 Tsp Freshly-grated Ginger Root
1 Preserved Lemon, Finley chopped
Juice of 1 Large Lemon
Salt and Pepper to taste
2-3 Cups Boiled and Draied Rice

<!Method----->

Method:

In large pot add 1 tblsp of the oil heat then add the chicken and stir for 8-10 minutes until the chicken is sealed.
Add and sauté the garlic and onions until lightly golden.
Add the water bring to a boil then add tomato, cardamom, turmeric, cinnamon, ginger, salt and pepper then reduce heat and simmer for 30 minutes until the chicken is cooked.
Add the zucchini simmer on a low heat for 10 min until just tender. Add more water if required.
Remove from heat stir in preserved lemon and lemon juice.
Serve with rice.