<!Recipie----->

Saudi Kapsa Chicken Rice

Saudi spicy chicken and rice dish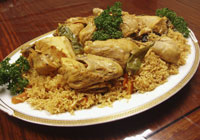 (Aslo known as Kabsa Chicken)
<!Recipie Ing & Meth--------->

Ingredients:

1.5kg chicken pieces
2 cups White Basmati Rice
400g tomato paste
1 medium onion, chopped
2 teasp garlic powder
1 teasp ground cumuin
2 teasp ground cardomon
2 teasp chilli flakes (optional)
6 teasp of olive oil
1 Large Tomato,chopped
1/4 cup raisins
1 cinnamon stick
1 preserved lemon (optional)
Salt and pepper to taste




Method:

In a large pot add oil, chopped onions and cumuin stirring until browned on high heat.
Add boiling water to the pot until half full, add salt and peper, cardomon, garlic powder, chilli, tomato, tomato paste, preserved lemon and raisins.
Add chicken to broth, cover and simmer on medium heat 30-40 min.
Remove chicken from broth, place on baking dish and put into a preheated oven at 180c for 30-40min till skin lightly crisped.
Strain the broth, keep the strained ingredients in one bowl and the broth in another bowl.
In the pot, add the rice along with 4 cups of the Kabsa broth.
Bring to boil then reduce heat to low, cover and cook rice for 10-15 min untill light and fluffy.
Place rice on platter, place chicken on top then garnish with strained ingredients and serve.