<!Recipie----->

Lebanese Baked Chicken and Potatoes

Baked chicken with garlic, paprika, cumin, oregano and lemon over quartered potatoes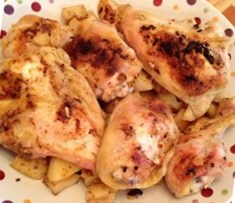 <!Ingredients----->

Ingredients:

8 Cut Up Chicken Pieces
8 Medium Potatoes, peeled and quartered
Salt to taste
Ground White Pepper to taste
4 Cloves Garlic, crushed
2 Tsp Paprika Powder
2 Tsp Ground Cumin
2 Tsp Dried Oregano Flakes
2 Tsp Fresh Lemon Zest
1 Cup Fresh Lemon Juice
1/2 Cup Extra Virgin Olive Oil

<!Method----->

Method:

Preheat oven to 220c.
Place chicken and potatoes in a large baking dish. Season generously with salt and white pepper.
In a bowl, stir together garlic, oregano, spice, olive oil, and lemon zest and juice. Pour over chicken and potatoes. Cover dish with foil.
Bake in preheated oven for 30 Min. Remove foil, increase heat to 475 degrees F (245 degrees C), and cook until chicken and potatoes are golden, around 30 Min.