<!Recipie----->

Lebanese Chicken and Farik

Spicy chicken over farik topped with almonds and pine nuts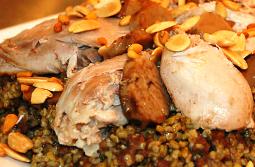 <!Ingredients----->

Ingredients:

2 Cups Farik (farik is a cereal made from roasted green wheat)
1kg Skin Free Chicken Fillets
1 Onion, finely chopped
2 Cloves Garlic, crushed
1 Tbsp Olive Oil
2 Bay Leaves
1 Tsp Ground Cardamom
1 Tsp Ground Nutmeg
1 Tsp Paprika Powder
1 Tsp Ground Cloves
1 Tsp Ground Cumin
Salt and Pepper to taste
1 Tblsp Unsalted Butter
1/2 Cup Chopped Almonds
1/2 Cup Pine Nuts

<!Method----->

Method:

Wash the farik and remove any unwanted particles.
In large frying pan heat the oil then sauté the onions and garlic until lightly golden.
Add the chicken fillets and spices then cook stirring for 5-8 minutes.
Add the farik, 1 litre of hot water and the bay leaves then simmer on a low heat covered for 40 minutes.
In a small frying pan melt the butter then lightly toast the almonds and pine nuts then set aside.
Spoon the farik onto a large serving plate, place the chicken pieces on top, scatter over the almonds and pine nuts then serve.