<!Recipie----->

Egyptian Molokhia with Duck

Molokhia over rice with crispy duck pieces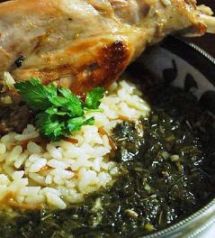 (Aslo spelt as Mulukhiyah, Mloukhiya, Molokhia, Molohiya, Mulukhiyya, Malukhiyah, or Moroheiya)
<!Ingredients----->

Ingredients:

1.5kg Whole Duck, cleaned, washed
1 Large Onion, halved
2 Bay Leaves
Salt and Pepper to taste
750g Bag Frozen Molokhia or Fresh Molokhia Leaves, finely chopped
3 Tbsp Butter
6 Garlic Cloves, crushed
1 Tsp Ground Coriander (optional)
2 Cups of Cooked Rice, boiled, drained well
1 Tblsp Oil for frying

Dressing: (Optional)
1/2 Small Onion, finely chopped
1/2 Cup White Vinegar

<!Method----->

Method:

In a large stockpot bring 2 litres of water to a boil then add the duck, onion, bay leaves, salt and pepper (add more water to cover if needed).
Reduce heat and simmer covered for 40-60 minutes until the duck is tender, strain and reserve 5 cups of duck stock, discard onion halves and set duck aside.
In a large saucepan bring the duck stock to a boil, reduce heat then add 1 cup water, the molokhia and ground coriander then let simmer on a low heat uncovered for 2 minutes.
While the molokhia is simmering, in a frying pan melt the butter then add the garlic stirring until the garlic is golden then pour into the molokhia saucepan, stir and simmer for 1 more minute then turn heat off.
Cut the duck into 1/4 or 1/8 pieces.
In a large frying pan heat the oil then add the duck pieces turning regularly to brown and crisp the skin.
Serve the molokhia over rice with the duck pieces and add the vinegar dressing as desired.