<!Recipie----->

Moroccan Chicken Maryland Casserole Recipe

Maryland pieces in a spicy tomato, ginger, cumin and turmeric sauce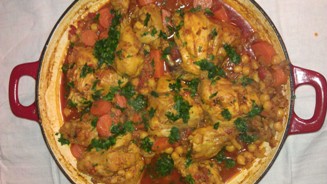 <!Ingredients----->

Ingredients:

500g skinfree maryland chicken pieces
500ml chicken stock
1 large onion, finely chopped
3 garlic cloves, crushed
2 carrots
1 can chickpeas
25g pine nuts
400g can chopped tomatoes
1 tsp grated ginger
1 tsp ground cumin
1 tsp ground coriander
1 tsp ground black pepper
1 tsp ground cinnamon
1 tsp turmeric
1 tsp paprika
2 tbsp olive oil
3 tbsp chopped mixed fresh coriander and flat leaf parsley
Salt and peper to taste
Flat leaf parsley and coriander leaves, chopped for garnish

<!Method----->

Method:

Marinade then chicken - place the black pepper, cinnamon, ground cumin, ground coriander, turmeric, salt and paprika in a small bowl and mix to combine then tip half into a large bowl.
Add the chicken pieces and toss until evenly coated then cover the bowl with cling wrap and put into fridge for a few hours to marinade.
Heat a large casserole then add half the olive oil, fry the chicken and cook over a high heat until evenly browned then set aside in a plate.
Add the remaining olive oil to the casserole and fry the onions until softened then add remaining spices and the garlic and ginger, stirring occasionally.
Return the chicken to the casserole, add chicken stock and chopped tomatoes, bring to boil and cook for 20 minutes then add carrots and chickpeas.
Cook for further 30 minutes until the chicken is completely tender but holding its shape and the sauce has thickened.
Serve garnished with coriander, parsley and preserved lemon.