<!Recipie----->

Palestinian Musakhan Chicken

Spicy sumac chicken baked in pita loafs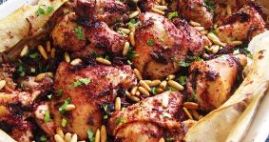 <!Ingredients----->

Ingredients:

1 Large Chicken, cut into serving pieces
1/4 cup Dried Sumac
1 Tsp Ground cinnamon
1/2 Tsp Ground allspice
1/4 Tsp Ground Nutmeg
Salt and Pepper to taste
1/4 Cup Olive Oil
4 Onions, thinly chopped
3 Pita Bread Loafs
1 Tblsp Pine Nuts
Parsley, finely chopped for garnish

<!Method----->

Method:

In a large bowl, mix together the chicken, sumac, spices, salt and pepper. Refrigerate and let marinate for at least 30 minutes, or preferably for several hours.
Preheat oven to 175c. Heat the olive oil in a large frying pan over medium-high flame, add the chicken, a few pieces at a time, and brown on both sides then remove to a plate and set aside.
Add the onions to the frying pan and sauté, stirring often, until the onions are cooked down and beginning to brown, 15 to 25 minutes.
On a baking tray spread half the onions over two pita loafs, then place chicken over the onions then top the chicken with the remaining onions and sprinkle the pine nuts.
Cover the whole dish with the one pita loaf tucking in the sides to seal the chicken in. Sprinkle the pita bread with water to lightly moisten it then cover it lightly with aluminium foil.
Place the baking dish in the oven and bake for 1 1/2 to 2 hours.
Remove the dish from the oven, discard the top loaf, garnish with parsley then serve.