<!Recipie----->

Syrian Ginger and Honey Chicken Recipe

Chicken in a zesty ginger, honey and chilli sauce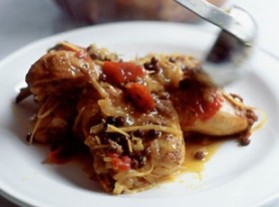 <!Ingredients----->

Ingredients:

1.5 kg chicken, cut into 8 pieces
2 tomatoes, diced
2 small red chillies, sliced
1 lemon, juiced and zested
2 tblsp honey
100ml extra virgin olive oil
2 brown onions, thickly sliced
100 grams ginger, choped into thin strips
3 cloves garlic, peeled and crushed
2 tsp salt
2 tsp ground cinnamon
1 tsp ground black pepper
1/2 bunch coriander leaves, roughly chopped

<!Method----->

Method:

Heat the olive oil in a large saucepan on a high heat once oil is hot add chicken with cinnamon salt and pepper and cook on all sides till golden then remove the chicken from the saucepan and set aside.
Add the onion, garlic, ginger and chilli to the pan and cook for 2-3 minutes then add the tomatoes, and cook for another 2 minutes.
Return the chicken to the saucepan then add the zest, lemon juice, honey and water to cover the chicken.
Cover with a lid and simmer for 10 minutes on a medium heat then uncover and simmer for another 10-15 minutes until chicken is cooked well.
Garnish with coriander and serve with pita bread or rice.