<!Recipie----->

Turkish Yoghurt and Mint Chicken

Chicken pieces marinated with garlic, ginger and mint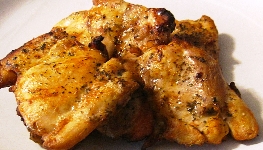 <!Ingredients----->

Ingredients:

1kg Chicken Pieces
1 Cup Plain Greek Yogurt
4 Cloves Garlic, minced
1/2 Tblsp Fresh Ginger, minced
1 Tblsp Dried Mint
1 Juice of 1 Lemon
Salt and Pepper to taste

<!Method----->

Method:

In a large bowl add the yogurt, garlic, ginger, mint, lemon salt and pepper and mix well.
Add chicken to bowl and coat well.
Cover bowl with cling wrap and refrigerate for at least 2 hours (the longer the better 24 hours is best).
Preheat oven to 200c, place chicken on a wire rack and bake for 2 hours turning after 1 hour, remove when the skin is nice and crispy.