<!Recipie----->

Brown Rice with Chickpeas

Brown rice with vermicelli, chickpeas and carrots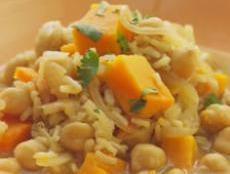 <!Ingredients----->

Ingredients:

2 Cup Brown Rice
1/4 cup Vermicelli
1 Tblsp Olive Oil
3 Medium Onions, thinly sliced
2 Cloves Garlic, crushed
2 Tsp Ground Cumin
2 Tsp Ground Coriander
4 cups Chicken or Vegetable broth
1 400g Can Chickpeas, rinsed, drained
2 Medium Carrots, peeled, diced
Salt and Pepper to taste
Flat Leaf Parsley, finely chopped for garnish
Juice of 1 Lemon

<!Method----->

Method:

In large saucepan heat the oil and sauté the garlic and onions until lightly golden.
Pour in broth then add rice and spices.
Bring to a boil then simmer for 10 minutes, then add the vermicelli and carrots simmer for another 10 minutes until carrots and rice are cooked.
Mix through Chickpea then simmer for another 3-5 minutes.
Garnish with parsley and squeeze on lemon juice then serve.