<!Recipie----->

Emirati Arsiyah Chicken Rice

Moist chicken rice with cinnamon and cardamom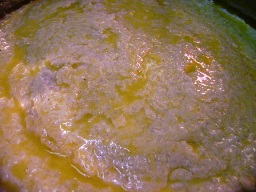 <!Ingredients----->

Ingredients:

2 Cups Rice
1.2kg of Whole Chicken
2 Liters of Water
1 Cinnamon Stick
1 Tsp Ground Cardamom
2 Tsp Salt
1/4 Tsp Ground Black Pepper
100g of Melted Ghee or Butter

<!Method----->

Method:

In a large pot add the chicken, water and cinnamon then boil until the chicken is falling off the bone.
Strain and reserve the broth.
Allow to chicken to cool, debone, remove skin then cut the chicken into finely chopped pieces.
In a pot large pot add the rice, broth, chopped chicken, salt, pepper and cardamom then stir.
Bring to a boil and then simmer covered on low heat for 30 minutes. Stir the Arsiyah every 5-10 minutes so that it does not stick to the bottom of the pot. It should not be dry it should remain moist and pasty.
Remove from heat then with an electric mixer set on high mix the Arsiyah until the rice and chicken are combined well into each other.
Place the Arsiyah in a serving bowl then pour over melted ghee or butter, serve hot.