<!Recipie----->

Iraqi Broad Bean Rice

Rice with broad beans, fennel leaves and garlic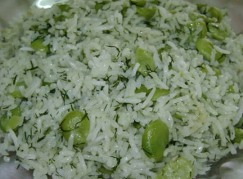 <!Ingredients----->

Ingredients:

1kg Green Broad Beans, peeled, cut into half
4 Cups Rice
1 Cup Fresh Fennel Leaves, chopped
4 Cups Broth Vegtable or Chicken
3 Garlic Cloves, crushed
1/2 Cup Olive Oil
1 Tsp Chili Powder
Salt and Peper to taste

<!Method----->

Method:

Place rice in a bowl and soak for 20 minutes.
Heat olive oil in a large pot over medium-high heat and sauté broad beans for 15 minutes stirring well continuously.
Add the fennel leaves and garlic then cook for another 10 minutes stirring well continuously.
Drain rice then add to the pot, add the broth, chilli, salt and pepper mixing well.
Raise the heat to high until the water has mostly evaporated then reduce heat to low.
Simmer until the rice is cooked then serve hot.