<!Recipie----->

Moroccan Coriander Rice

Rice with onion, fresh and ground coriander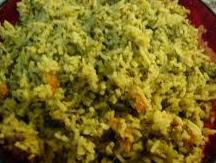 <!Ingredients----->

Ingredients:

2 Cups Rice
2 Onions, chopped finely
2 1/2 Cups Water
2 Tablesp Oil
2 Tsp Ground Coriander Seed
2 Tblsp Fresh Coriander, very finely chopped
Salt and Pepper to taste

<!Method----->

Method:

In a large saucepan heat oil then fry onions until golden.
Add water, ground coriander, salt and pepper and bring to a boil, then stir in the rice.
Cover, lower heat to minimum and allow slow cooking for 15-20 minutes until rice is cooked. Gently stir rice occasionally to stop rice from sticking to the bottom of the saucepan.
Mix fresh coriander through well then serve hot.