<!Recipie----->

Rice with Yellow Lentils

Rice with yellow lentils, cumin, garlic and butter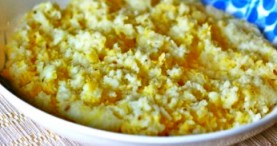 <!Ingredients----->

Ingredients:

2 Cup Rice
1 Cup Yellow Lentils
1 Tsp Ground Cumin
Salt and Pepper to taste
3 Cloves garlic, crushed
3 Tbsp Unsalted Butter, melted

<!Method----->

Method:

In a colander wash the rice and lentils together in cold water to remove the starch.
In a large saucepan add the rice and lentils with 10 cups of water.
Cook (uncovered) on a high heat until the water comes to a boil, stirring occasionally.
When the water comes to a boil, reduce heat to medium then a simmer for 30 minutes or until the rice is fully cooked.
Drain well in a colander then set aside.
In a frying pan melt the butter then add the garlic stirring until the garlic is golden.
Place the rice mixture on a serving plate, mix through the melted butter and garlic, cumin, salt and pepper then serve.