<!Recipie----->

Saudi Spicy Lamb Rice

Spicy lamb with tomato, onion, peas and basil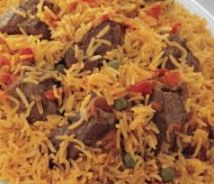 <!Ingredients----->

Ingredients:

750g Lamb, chunks
8 Cups Water
3 Tblsp Vegetable Oil
1 Medium Onion, chopped
1 Tsp Ground Chilli
2 Tsp Dried Basil Flakes
Salt and Pepper to taste
1/2 Tsp Ground Cardamom
1/2 Tsp Ground Cinnamon
1/2 Tsp Ground Turmeric
1/2 Tsp Ground Coriander
1/2 Tsp Ground Nutmeg
2 Medium Tomatoes, diced
500g Green Peas
2 Tblsp Tomato Paste
2 Garlic Cloves, crushed
21/2 Cups Rice, washed and drained

<!Method----->

Method:

Place lamb chunks and water in a large pot, bring to boil and remove froth as it appears.
Simmer over low heat for 1 1/2 hours or until lamb becomes tender then set aside.
Heat the vegetable oil in a large saucepan, add and sauté onions over medium heat for 2-3 minutes or until lightly golden.
Add basil, spices, tomatoes, green peas, tomato paste and garlic.
Stir for 2 minutes then add the cooked lamb with 4 1/2 cups of the lamb stock.
Add in rice, stir occasionally then bring to boil, lower heat, cover and simmer for 25 minutes or until rice is cooked.