<!Recipie----->

Tahini and Carrot Rice

Rice with carrot, sunflower seeds tahini, lemon and chilli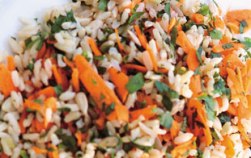 <!Ingredients----->

Ingredients:

1 cup Brown Rice
1 Large Carrot, coarsely grated
1 Tblsp Sunflower Seeds
1/4 cup Flat Leaf Parsley, finely chopped

Tahini Dressing:
1 Clove Garlic, minced
2 Tblsp Tahini
2 Tsp Lemon Juice
1 Tsp Fresh Lemon Zest
1 Tsp Ground Chilli
Salt and Pepper to taste

<!Method----->

Method:

Add the rice to saucepan of boiling water, boil uncovered, until rice is cooked.
Combine rice in a bowl with the carrot, parsley and seeds.
In a bowl mix all the tahini dressing ingredients togeather.
Serve drizzled with the dressing.