<!Recipie----->

Turkish Anchovie and Tomato Rice

Spiced rice with garlic, onion, tomatoes, anchovies and fresh coriander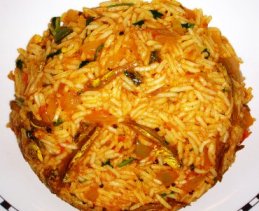 <!Ingredients----->

Ingredients:

2 Medium Tomatoes, finely chopped
1 Cup Dry Anchovies
1 1/2 Cups Rice
1 Onion, roughly chopped
2 Garlic Cloves, crushed
4 Tblsp Olive Oil
1 Tsp Turmeric Powder
1 Tsp Ground Cumin
Salt and Pepper to taste
1/4 Cup Fresh Coriander, roughly chopped

<!Method----->

Method:

Boil and cook rice, drain then set aside to cool.
In large frying pan heat 1 Tblsp of oil then sauté the garlic and onions until lightly golden.
Add rice, tomatoes, anchovies spice and remaining oil then cook for 5-10 minutes while gently stirring.
Remove from heat then mix through coriander and serve hot.