<!Recipie----->

Turmeric and beef rice

Spicy rice with ground beef, carrot, bell pepper and peas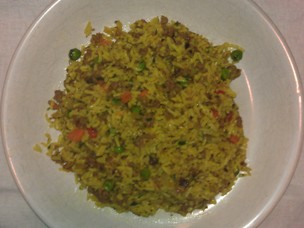 <!Ingredients----->

Ingredients:

400g ground beef
2 cups rice, boiled, strained and chilled
1 medium onion, finely chopped
1 large carrot, finely chopped
1/2 bell pepper, finely chopped
1/2 cup green peas
1/4 cup olive oil
2 cloves garlic, crushed
1 tblsp turmeric powder
1 tsp dry basil flakes
1 tsp dry dill
1 tsp cumin powder
1 tsp chicken stock powder
Salt and pepper to taste
1/2 Lemon juice
1/2 cup fresh flat leaf parsley, finely chopped

<!Method----->

Method:

Heat a large frying pan with 1 tbsp of olive then sauté onions and garlic until lightly golden.
Add the beef and stir until brown and flaked onto small pieces.
Add carrot and bell paper and sauté for another 2-3 minutes.
Add rice, remaining olive oil, peas and spices then mix well.
Keep gently mixing for 5-8 min to ensure all the rice has been colour by the turmeric.
Add lemon juice and parsley mix for another 2-3 minutes then serve hot.