<!Recipie----->

Cucumber, Yogurt and Mint Salad

Yogurt with garlic, dried and fresh mint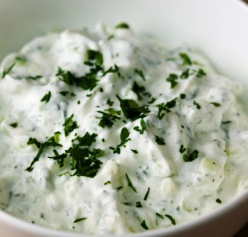 <!Ingredients----->

Ingredients:

1 Large Lebanese Cucumber, grated
3 Cups Plain Yogurt
2 Garlic Cloves, crushed
2 Tbsp of Water
1 Tsp Dried Mint Flakes
Salt and Pepper to taste
1 Tblsp Fresh Mint Leaves, finely chopped

<!Method----->

Method:

In a large bowl add the yogurt, cucumber, garlic and dried mint, mix well.
Chill for 20 minutes before serving.
Serve garnished with the fresh mint.