<!Recipie----->

Eggplants and Tomato Salad

Eggplants with tomato, red onion, fresh mint and coriander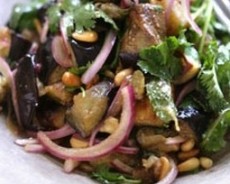 <!Ingredients----->

Ingredients:

3 Eggplants, cut into cubes (about 3cm)
Olive Oil for shallow frying
1/2 Red Onion, thinly sliced
50g Pine Nuts, toasted
1 Tomato, finely chopped
1/2 Clove Garlic, sliced
1/2 Cup Mint Leaves, chopped
1 Cup Coriander Leaves
1/2 Tsp Cumin
Salt and Pepper
Juice of half a Lemon
1 Tbsp Red Wine Vinegar
1 Tbsp Extra Virgin Olive Oil

<!Method----->

Method:

Sprinkle the diced eggplant with salt and place in a colander for 30 minutes then rinse with water and pat dry with a paper towel.
Heat a large frying pan with enough oil to cover the bottom and shallow-fry the eggplant in batches until golden brown all over then drain on paper towels.
Once the eggplant has cooled, combine all the ingredients then serve.