<!Recipie----->

Lemon Garlic Potato Salad

Diced Potato with parsley, lemon, garlic and olive oil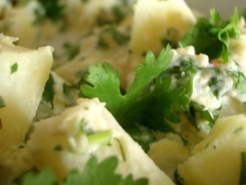 <!Recipie Ing & Meth--------->

Ingredients:


1kg potatoes diced
1/2 cup chopped parsley
1 clove garlic crushed
lemons Juice to taste
1 Tablesp olive oil
Salt and pepper to taste


Method:

Boil potatoes, and let cool.
Add all other ingredients and mix well.
serve chilled.