<!Recipie----->

Lebanese Rice and Tomatoes Salad

Rice with vermicelli noodles, fresh tomato, red onion and parsley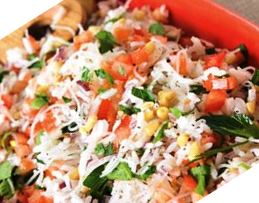 <!Ingredients----->

Ingredients:

1/2 Cup White Rice
100g Dried Vermicelli Noodles, coarsely broken up
Juice of 1 Lemon
2 Garlic Cloves, crushed
1 Tblsp Olive Oil
1 Tsp Ground Ginger Powder
Salt and Pepper to taste
1 Small Red Onion, finely chopped
2 Large Tomatoes, finely diced
1/3 Cup Toasted Pine Nuts
1/4 Cup Fresh Flat Leaf Parsley, roughly chopped

<!Method----->

Method:

Boil rice for 8 to 10 minutes until just tender then add the noodles, boil for another 2 minutes until noodles are softened.
Drain in a colander, rinse under cold water then set aside.
In a small bowl make the dressing, mix well the lemon juice, olive oil, garlic, ginger, salt and pepper.
In a large salad bowl add the rice mixture, onion, tomato, pine nuts, parsley and dressing, toss well to combine then serve.