<!Recipie----->

Spinach and Chickpeas Salad

Spinach and chickpeas with garlic lemon and cumin seed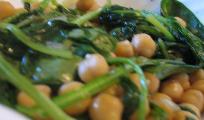 <!Ingredients----->

Ingredients:

400g Can Chickpeas
3 Cups Fresh Spinach
2 Garlic Cloves, crushed
1 Tsp Cumin Seed
1/2 Cup Olive Oil
Juice of 1 Lemon
Salt and Pepper to taste

<!Method----->

Method:

In a large salad bowl add the chickpeas and spinach.
Mix the olive oil, garlic, cumin seed, salt, pepper and lemon in a small bowl.
Pour mixture over the chickpeas and spinach toss then serve.