<!Recipie----->

Turkish Chicken and Chilli Pepper Salad

Chicken breast with tomato, garlic, cucumber and chilli pepper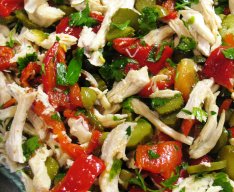 <!Ingredients----->

Ingredients:

400g Chicken Breast
1 Medium Tomato, diced
1 Garlic Clove, crushed
1 Cucumber, peeled, chopped
1 Red Chilli Pepper, chopped
1 Tblsp Flat Leaf Parsley, roughly chopped
1 Tsp Ground Cumin
Salt and Pepper to taste
Juice of 1 Lemon
3 Tblsp Olive Oil

<!Method----->

Method:

In a medium saucepan add enough water to cover the chicken. Bring to a boil then add the chicken, garlic and salt. Simmer for 5-10 until the chicken is cooked then set aside chicken and allow it to cool.
In a medium salad bowl, combine all of the ingredients then toss well to coat evenly.
Serve immediately.