<!Recipie----->

Algerian Spicy Sauce Fish

Fried fish filets in a spicy, ginger and tomato sauce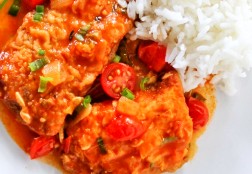 <!Ingredients----->

Ingredients:

1kg White Fish Filets
Zest of 1 Lemon
Juice of One Lemon
1 Tsp Ground Cumin
1 Cup Flour
Salt and Pepper to taste
Oil To Fry
2 Cups Rice, boiled and drained
1/4 cup Cherry Tomatoes, halfed for garnish
2 Tblsp Spring Onion, chopped for garnish

Sauce:
1 Tbsp Olive Oil
1 Large Onion, finely chopped
4 Cloves Garlic, crushed
1 Tsp Fresh Ginger, crushed
1 Tsp Ground Cumin
1 Tsp Ground Coriander
1 Tsp Cayenne Pepper Powder
Salt and Pepper to taste
1 Large Red Chilli Pepper
2 Cups Tomatoes, diced
2 1/2 Cups Water

<!Method----->

Method:

Fry fish: Place the fish filets in a large bowl, add zest and squeeze over lemon juice on both sides.
On a large plate, place flour, add cumin, salt and pepper then stir to combine.
In a large frying pan heat the oil. Ensure to add enough oil to deep fry the fish.
Coat the fish well with the flour mix on both sides making sure to shake off any excess.
Place the fish into the hot oil and fry until golden brown and crispy on both sides then set aside.
Make the sauce: Heat the oil in a large frying then sauté the onion until soft.
Add garlic, ginger, chilli pepper, spices and tomato then cook for 5-10 minutes until the tomatoes have softened.
Add water, bring to a boil then simmer for 5-10 minutes.
Place fried fish on a serving plate then pour over the sauce garnish with the cherry tomatoes and spring onions.
Serve with rice.