<!Recipie----->

Egyptian Fried Cumin and Garlic Calamari

Crispy fried calamari done in garlic and cumin served with lemon wedges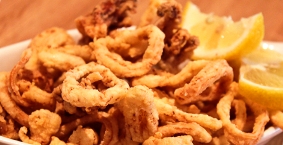 <!Ingredients----->

Ingredients:

10 Fresh Calamari, skinned and cleaned
1 Tsp Salt
2 Tsp Ground Cumin
4 Garlic Cloves, minced
1/4 Tsp Black Pepper
1 Cup Plain Flour
2 Eggs, beaten
3 Cups Vegetable Oil
Lemon Wedges

<!Method----->

Method:

Slice the squid bodies into narrow rings and dry rings and tentacles with a paper towel.
Mix flour, cumin, garlic, pepper, salt and black pepper in a ziploc bag.
Add squid to bag and flour lightly.
Dip squid into egg and then back into bag to flour again.
Heat oil to smoking point, and then lower heat slightly.
Fry the squid in small batches for around 20 seconds only.
Remove with slotted spoon or strainer.
Drain well on paper towel before serving hot with lemon wedges.