<!Recipie----->

Fish Fattoush

Fish conbined with crispy pita, cucumber and tomato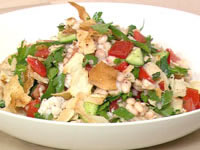 <!Ingredients----->

Ingredients:

400g White Fish fillet
2 Large Pita Bread
Olive Oil Spray
1 Lebanese Cucumber, sliced
1/2 Red Onion, finely chopped
3 Tomatoes, Roughly chopped
420g Can Butter Beans, drained
1/2 Cup Parsley Leaves, roughly chopped
1/4 Cup Coriander Leaves, roughly chopped
1/2 Tsp Cumin powder

Dressing:
1 Clove Garlic, crushed
1/4 Cup Lemon Juice
1/2 Cup Extra Virgin Olive Oil
Salt and Pepper to taste

<!Method----->

Method:

Preheat oven to 160c.
Make dressing by combining all the ingredients in a medium bowl, stir well and set aside.
Separate each pita bread into 2 halves then tear into 3cm pieces.
Spread in a single layer over an oven tray and lightly spray with olive oil.
Bake in preheated oven 10-15 minutes or until golden brown and crisp.
Coat fish with olive oil and season with cumin, salt and pepper.
Pan-fry until cooked as desired then rest for 2-3 minutes before flaking into large pieces.
In a large bowl combine fish, pita bread and all the other ingredients.
Pour the dressing over the Fattoush then serve.