<!Recipie----->

Iraqi tomato fish

Whole fish BBQ is crushed tomato, garlic cumin and lime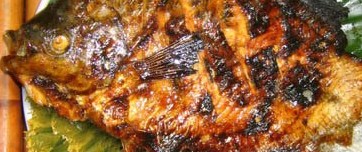 <!Ingredients----->

Ingredients:

1 Whole fish (20cm)
3 Tomatoes
3 minced garlic cloves
1 tsp cumin powder
Salt to taste
1 whole lemon

<!Method----->

Method:

Rub the fish with salt and put in fridge for 2 hours.
In a bowl crush tomatoes add garlic, cumin and half the lemon juice.
Rub the fish all over with the tomato mix.
Place fish in wire rack and cook over coals till slightly charred.
Remove from coals then squeeze the other half of lemon all over the fish then serve.