<!Recipie----->

Lebanese Chilli and Coriander Fish

Cod fish in a onions, garlic, cumin and capsicum sauce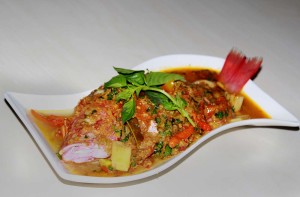 <!Ingredients----->

Ingredients:

500g Cod Fish
Juice of 1 Lemon
50 Ml Olive Oil
1 Tblsp Fresh Coriander, chopped
Salt and White Pepper to taste
2 Cloves Garlic, crushed

For Harrah Sauce:
2 Tomato, chopped
1 Onion, chopped
1 Tsp Ground Cumin
2 Capsicum, chopped
6 Green Chili, sliced
Red Chili to taste
100g Tomato Paste
1 Tsp Fresh Coriander, chopped
2 Cloves Garlic, crushed

<!Method----->

Method:

Marinate all together and bake or grill the fish for baking.
Pre heat the oven at 160c and bake for 10 - 12 minutes.
Make the Harrah sauce - Slightly sauté the onions in a pan and add garlic and cumin in it.
Then add capsicum gradually let the capsicum change the color.
Then add tomato paste and mix well.
In the end add tomatoes chopped and cook for a couple of minutes in the end add chopped fresh coriander.
Serve hot.