<!Recipie----->

Lebanese Fish Patties

Fryed fish patties with onion, garlic, cumin and chilli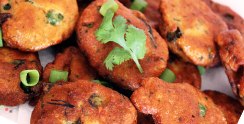 <!Ingredients----->

Ingredients:

1kg Boneless White Fish
1 Onion, finely chopped
2 Garlic Cloves, minced
1 Tblsp Flat Leaf Parsley, finely chopped
2 Tblsp Spring Onions, chopped
1/2 Cups Bread Crumbs
1 Tsp Cumin Seed
1 Tsp Ground Chilli
1 Tsp Ground Cumin
Salt and Pepper to taste
1 egg, beaten
Vegetable oil for shallow frying
Flat Leaf Parsley, chopped for garnish
Spring Onion, chopped for garnish

<!Method----->

Method:

In a large frying pan heat the oil for frying.
In a large bowl combine all of the ingredients using your hands.
Form 3cm balls in the palm of your hand then flatten to make the patties.
Fry patties on both sides till golden brown.
Garnish with parsley and spring onion, serve hot.