<!Recipie----->

Moroccan style fish

Fish with chickpeas and Moroccan seasoning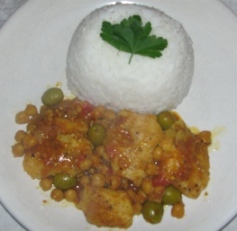 <!Recipie Ing & Meth--------->

Ingredients:


1 kg fish fillet (choose type of fish that is firm so it doesn't break during the cooking process)
1 400g can chickpeas
3 tomatoes chopped
1 medium onion chopped
2 cloves garlic minced
˝ cup green stuffed olives
1 ˝ tabsp Moroccan seasoning
2 tabsp olive oil
finely chopped coriander


Method:

Sprinkle some of the seasoning on the fish, heat the oil in a large pan and fry it in the oil 1-2 minutes on each side till it's golden in color then put the fish aside (it might be not fully cooked yet you just want the color).
Add more oil to the pan if needed then add the onion and garlic for 2-3 minutes till onion is soft then add the rest of the seasoning and fry it for ˝ minute.
Add the tomatoes, chickpeas and a bit of water just to form a sauce, leave it to simmer for 10 –15 minutes.
Add the fish and simmer for another 5 minutes (don't over cook the fish or it becomes rubbery)
Take it of the heat and serve with rice and garnish with coriander.