<!Recipie----->

Moroccan spicy shrimp on rice

Shrimp in a tomato, garlic, basil and chilli sauce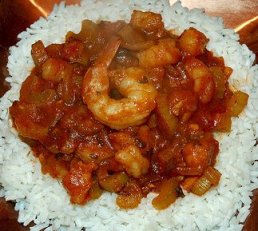 <!Recipie Ing & Meth--------->

Ingredients:

2 tablebsp olive oil
3 cloves garlic, minced
1 medium onion, chopped
400g can diced tomato
2 tablesp tomato paste
3 1/2 cup water
1 teasp dried chilli flakes
2 teasp drained capers
2 tablesp fresh basil leaves, chopped
1 celery stick, chopped
500g medium shrimp peeled
1 cups jasmine rice



Method:

Put rice in a saucepan with 3 cups hot water and boil for 10-15 minutes or until rice is cooked, drain and set aside.
In a frying pan, heat olive oil over medium heat.
Add the garlic and onion and sauté for 5 minutes.
Add the celery diced tomatoes, tomato paste and 1/2 cup water then bring to a boil.
Add the chilli flakes, capers and basil then lower the heat and simmer 15 minutes.
Add the shrimp and cook over low heat 7 to 10 minutes, or until the shrimp is pink and cooked through.
Serve over hot cooked rice.