<!Recipie----->

Morrocan Ginger Fish with Couscous

Fishfillets done with ginger, garlic and tumeric over vegtable couscous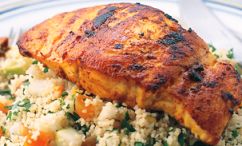 <!Ingredients----->

Ingredients:

800g firm White Fish Fillets, skin removed
2cm fresh Ginger, finely grated
2 Garlic Cloves, crushed
1/2 Tsp Ground Tumeric
1/2 Tsp Sweet Paprika
1/2 Tsp Ground Cumin
1 Tsp Olive Oil
1/2 Lemon Juice

Couscous:
2 Cups Couscous
2 Cups Boiling Water
50g Butter, chopped
1 Large Potato peeled, bolied (still firm), diced
1 Large Carrot peeled, bolied (still firm), diced
1/2 red onion, finely chopped
1/2 Cup Flat Leaf Parsley, coarsely chopped
1/2 Cup Roasted Pine Nuts
Salt and Pepper to taste

<!Method----->

Method:

Make the couscous - combine couscous, water and butter in a large bowl, cover and let stand for the liquid to be absorbed.
Fluff the couscous with a fork while stirring in the remaining ingredients.
Make the fish - combine garlic, ginger and spices in a large bowl, add fish and fully coat in the mixture.
Heat oil in a large frying pan over a medium heat then cook the fish until golden and crisp.
Place the fish on top of the couscous on a serving plate, squeeze on lemon juice, then serve.