<!Recipie----->

Spicy Fish Patties

Fish patties with pine nuts, cumin, cayenne and turmeric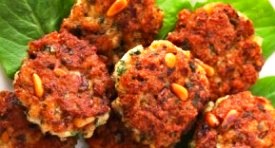 <!Ingredients----->

Ingredients:

1/4 cup Pine Nuts
500g Boneless Skinless Fish Fillets
1 Onion, finely Chopped
1/2 Cup Breadcrumbs
1/4 Cup Flat-Leaf Parsley, finely Chopped
1 egg
1/2 Tsp Salt
1/2 Tsp Cumin
1/4 Tsp Cayenne
1 Tsp Ground Turmeric
1/3 Cup Oil for frying

<!Method----->

Method:

Place the pine nuts into a small frying pan and toast them over medium heat for 6-8 minutes till golden and fragrant, stirring constantly.
Cut the fish fillet into large chunks and place it into a food processor. Pulse just a few times until the fish chunks are coarsely chopped.
Place the chopped fish into the mixing bowl with the pine nuts. Add the onion, breadcrumbs, parsley, egg, salt, cumin, cayenne and turmeric. Stir till all ingredients are well blended.
Heat your oil over medium till hot enough for frying, then form 2 tablespoons of fish mix into a small disk shape and fry for 2-3 minutes per side until dark golden brown.
Place cooked patties onto a paper towels to drain.
Serve hot, can be served with tahini sauce for dipping.