<!Recipie----->

Syrian Baked Prawns

Baked prawns with garlic, cumin, lemon zest and chilli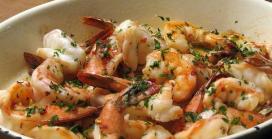 <!Ingredients----->

Ingredients:

500g Large Fresh Prawns, shelled and de-veined
5 Garlic Cloves, crushed
1/2 Cup Olive Oil
2 Tsp Fresh Lemon Zest
2 Tsp Ground Cumin
1 Tsp Ground Chilli
1 Tsp Dried Chilli Flakes
Salt and Pepper to taste
Juice of 1 Lemon
1/4 Cup Fresh Flat Leaf Parsley, finely chopped

<!Method----->

Method:

Pre-heat oven to 200c.
Butterfly the prawns then place them in a baking pan.
Pour over olive oil then add all the other ingredients then mix to coat well.
Bake for 8-10 minutes then serve.