<!Recipie----->

Syrian Spicy Fish Kofta

Fish kofta fingers in a spicy garlic, cinnamon, chili and cumin sauce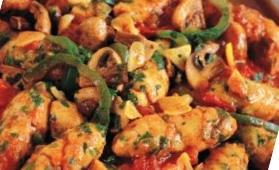 <!Ingredients----->

Ingredients:

1kg White Fish Fillets, skinned and minced
1 Small Onion, diced
1/2 Cup Fresh Flat Leaf Parsley, roughly chopped
1 Tblsp Oil for frying

Sauce:
1 Small Onion, thinly sliced
2 Cloves Garlic, cut into round slices
3 Tblsp Coriander Leaves, roughly chopped
1 Medium Bell Pepper, sliced
1/4 Tsp Ground Cinnamon
1/4 Tsp Chili Powder
1/4 Tsp Ground Cumin
100g Mushrooms, cut into quarters
1 Medium Tomato, diced
1 Tblsp Tomato Paste
Salt and pepper to tase
3 Cups Water

<!Method----->

Method:

Place minced fish in a bowl and mix in onions and parsley.
Divide the mixture into 12 portions then shape into fingers.
Heat oil in a large frying pan, grill the fish fingers for 5-6 minutes on all sides until cooked then set aside.
In a large saucepan add onion, garlic, coriander, bell pepper, spices, mushrooms, tomato, tomato paste and water, mix well.
Cook over medium heat till boiling then simmer on low heat for 10 minutes.
Add the fish kofta fingers to the sauce then simmer for another 5 minutes.
Remove from heat, gently put into a serving dish then serve.