<!Recipie----->

Turkish Onion and Garlic Sauce Squid

Squid cooked in an onion, garlic, tomato and lemon sauce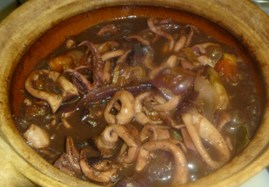 <!Ingredients----->

Ingredients:

500g Squid (mixture of tentacles and calamari rings)
3 Tblsp Olive Oil
3 Large Onion, roughly chopped
6 Garlic Cloves, minced
2 Medium Tomatoes, diced
2 Tsp Ground Cumin
Salt and Pepper to taste
Juice of 1 Lemon

<!Method----->

Method:

In large frying pan heat the oil then sauté the onions and garlic until golden brown.
Add 2 1/2 cups of hot water, tomatoes, cumin, salt and pepper, stir then simmer for 5 minutes until the tomatoes are softened.
Add the squid and cook stirring for 5-7 minutes.
Remove from heat then squeeze in lemon juice and serve immediately.