<!Recipie----->

Turkish Shrimp Stew

Shrimp cooked in a tomatoes, pepper, chilli and garlic stew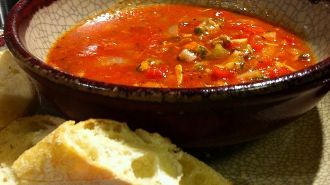 <!Ingredients----->

Ingredients:

400g raw shrimp, defrosted & shelled
1 Onion, finly chopped
2 Clove Garlic, crushed
4 Large Tomatoes, diced
1 Green Bell Pepper, diced
1 Red Chilli, diced
2 Tbsps Olive Oil
1 Tbsp Tomato Paste
1/2 Teasp turmeric powder
1/2 Teasp cumin powder
Salt and pepper to taste
300ml water
1/4 cup flat leaf pastley, roughly chopped
1/4 cup black olives, roughly chopped (optional)

<!Method----->

Method:

Heat the oil in a saucepan and sauté the onion and garlic.
The add tomatoes, tomato paste, peppers, chilli and seasoning add water cover and simmer for 10 min unil softened.
Add shrimp, olives and pastley, cook for 3-5 minutes.
Serve hot with rice or turkish pita bread.