<!Recipie----->

Algerian Egg and Meatball Soup

Meatball and egg in a butter, saffron and cinnamon broth with almonds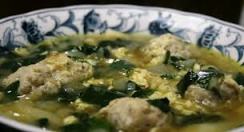 <!Ingredients----->

Ingredients:

500g Ground Beef
2 Medium Onion, finely chopped
2 Medium Eggs
3 Tblsp Olive Oil
1/2 Cup Almonds
1 Tblsp Butter
1/2 Tsp Cinnamon
1/8 Tsp Saffron
7 Cups boiling water or broth
2 Tblsp coriander, finely chopped
1 Cup Vermicelli
1 Tblsp Parsley, roughly chopped
2 Tblsp Lemon Juice
Salt And Pepper to taste

<!Method----->

Method:

In saucepan, heat oil then add half the onions and sauté until golden brown.
Add almonds, butter, salt, pepper, cinnamon, saffron and 2 cups boiling water.
Cover and cook over low heat for 5 minutes. In the meantime, mix the meat, coriander, one of the eggs and the remaining onions, salt and pepper.
Make into balls the size of marbles. Add to mixture with remaining boiling water.
Cook over medium heat until meatballs are well done about 20 minutes.
Add vermicelli and cook for 5 minutes. Make a sauce by mixing the remaining egg, parsley and the lemon juice.
Add to the pot, one minute before the soup is served. Stir well but do not boil.