<!Recipie----->

Jordanian Carrot and Almond Soup

Creamy carrot soup with cinnamon, cumin and ginger topped with cruched almonds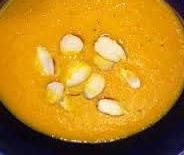 <!Ingredients----->

Ingredients:

6 Large Carrots, chopped
3 Cloves Garlic, crushed
3 Cups Milk
1/4 Cup Olive Oil
1 Tsp Ground Cinnamon
1 Tsp Ground Coriander
1 Tsp Ground Cumin
1 Tsp Ground Ginger Powder
Salt and Pepper to taste
1/4 Teasp Corn Flour
1 Cup Almonds, Cruched

<!Method----->

Method:

Boil carrots for 15-20 minutes until soft then drain.
Put carrots, garlic, milk and olive oil and spices into a blender for 3 minutes until smooth.
Pour ingredients into a saucepan bring to a boil then simmer on a low heat for 8-10 minutes.
Mix corn flour with 1/4 cup warn water until dissolved then pour into saucepan and stir for 2-3 minutes until soup has thickened.
Mix through crunched almonds and serve hot.