<!Recipie----->

Lebanese Artichoke Soup

Artichoke soup with carrot, tomato, chickpeas and parsley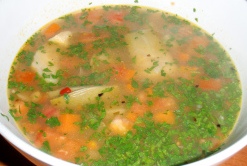 <!Ingredients----->

Ingredients:

1 Large Onion, chopped
2 Tblsps Olive Oil
3 Medium Carrots, chopped
1/4 Tsp Ground Red Pepper
1-Tsp Ground Coriander Seeds
2-4 Garlic Cloves, Minced
1 1/2 Cups chopped Potatoes
1 Tsp Salt (or to taste)
4-5 Cups Vegetable Stock
2 Large Tomatoes
10 Artichoke Hearts Cut Into Eighths
3/4 Cup Canned or Cooked Chickpeas
1/4 Cup chopped Fresh Parsley
2 Lemons Cut Into Wedges

<!Method----->

Method:

In a large soup pot sauté the onions in the olive oil for about 5 minutes than stir in the carrots and cover, Stir again after 3 minutes.
Add the ground red pepper, coriander and garlic then cover and cook for a few more minutes, add the potatoes, salt and 2 cups of the stock.
Cover the pot and bring the soup to the boil.
Reduce the heat and simmer until the potatoes are nearly tender.
Be careful not to overcook them. Gently stir in the tomatoes, artichoke hearts and cooked chickpeas and salt to taste.
Cover and simmer for 3 or 4 minutes, just to heat the tomatoes.
Add the remaining 2 – 3 cups of stock or even more if more soup is desired, heat gently.
It is important not to overcook or boil this soup.
The potatoes, tomatoes and artichokes should be heated just enough to blend the flavours or they might lose their shape and disintegrate.
Sprinkle each serving with fresh parsley and garnish with a wedge of fresh lemon.